---
Hudson Seventh-day Adventist Church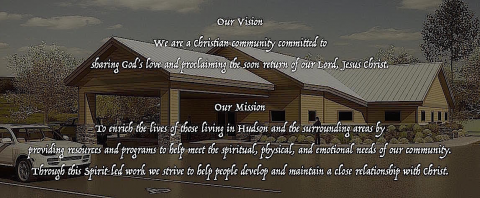 ---
The 28 Fundamental Beliefs of the Seventh-day Adventist Church
https://www.adventist.org/en/beliefs/
---
Our Vision
We are a Christian community committed to sharing God's love and proclaiming the soon return of our Lord, Jesus Christ.
Our Mission
To enrich the lives of those living in Hudson and the surrounding areas by providing resources and programs to help meet the spiritual, physical, and emotional needs of our community. 
Through this Spirit-led work we strive to help people develop and maintain a close relationship with Christ.
---
The Vision is Ours
Let us pray that Christ may dwell in our hearts through faith.
​That we may have power, together with all the saints, to grasp the width, and the length, and depth, and height of His love.
​So that we might believe that He is able to do immeasurably more than all we ask, or imagine, according to His power that is at work within us.
​To Him be glory in the Church and in Christ Jesus throughout all generations, for ever and ever. ​
​​Amen.
​Ephesians 3:17-21 NIV